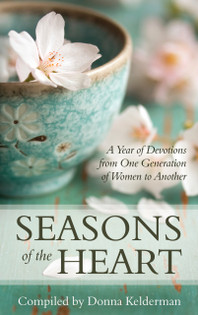 For the last couple of months, I've been editing a book of devotionals by women for women. Who knew that before the twentieth century so many godly women with a deep understanding of their faith and love for God were writing so much? It's been--and continues to be--a wonderful privilege editing and updating writings by women like Susannah Spurgeon, Mary Winslow, Frances Havergal, Ruth Bryan, and Katherine Parr. Haven't heard of them? You'll want to pick up the book when it releases later this fall and find out who they were and the situations God brought into their lives to bring them spiritual insight and biblical wisdom. Even though they were living in the sixteenth up to the early twentieth century, these women dealt with some of the same challenges that we women face today as singles, wives, mothers, and widows. Donna Kelderman, compiler and now friend, has done a great job combing through the
writings of these authors and pulling out delightful morsels that will encourage and instruct.
Below is a devotional by an author I had never heard of before my work on this book: Elizabeth Julia Hasell. She lived in England from 1830 to 1887. She was a literary and classics scholar who taught herself four languages. She is also known for her theological writing, and as I read this, I felt I had met a kindred spirit who put into words my own understanding of the delightful day--Sunday.
Seasons of the Heart
will be available from Reformation Heritage Books later this fall. Stay tuned!
Call the sabbath a delight.
—Isaiah 58:13
It has been justly said that while most people will attend church on the Lord's Day, the private observance of Sunday is but too little considered. Now the believer desires, above all things, to be "in the Spirit on the Lord's Day," to keep that day in a really spiritual manner. When the true Christian says he does not travel on Sunday or read ordinary books and that, in fact, he devotes the day, as much as possible, to holy employments, it is not so much that he feels he ought not to do this or that; it is that, with his tastes for prayer, praise, holy reading and thinking, and God's service in the sanctuary, he has no desire to waste the time otherwise. And when we consider what the employments of heaven will be, as far as we know anything about them, it ought to seriously alarm us if now we have no spiritual tastes, no preparation of heart and soul, so as to be ready for it.
I am certain that if an ungodly person could enter heaven and could stand among its holy inhabitants, whom we all hope to join after death, such a person would be miserable and would wish himself away. If then eternity be a certainty—if it will be passed either in heaven or in the wretched abode of lost souls—how unwise are we not to be preparing for the society and the employments of that heaven, where all hope to go at last! The Lord's Day affords us a quiet pause every week in which to "hear of heaven and learn the way." I would say to all my readers that these verses from Isaiah are most remarkable and full of instruction. The spiritual blessing promised to those who, by God's assisting grace, keep His day, not doing their own ways nor finding their own pleasure nor speaking their own words, is that they shall delight themselves in the Lord. They will not find the Sabbath "a wearisome day," for God Himself will teach them to love it and prepare them for the rest remaining for the people of God, even the eternal Sabbath in heaven.
—Elizabeth Julia Hasell